Line 5:
Line 5:
 

== Before ==

 

== Before ==

 
 
−

It is highly recommended that you [[CLS West Session Ideas|share your session idea on this wiki]] first. This will give others an idea of what you want to discuss and you may find other attendees who want to help you run the session.

+

It is highly recommended that you share your session idea on this wiki first. This will give others an idea of what you want to discuss and you may find other attendees who want to help you run the session.

 
 
 

When you get to the event be ready to add the session to the whiteboard with the schedule. There is likely to be a bit of a race to get sessions on the whiteboard, so be ready to get there! :-)

 

When you get to the event be ready to add the session to the whiteboard with the schedule. There is likely to be a bit of a race to get sessions on the whiteboard, so be ready to get there! :-)
---
Revision as of 05:53, 13 April 2011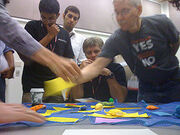 The aim of this page is to provide some simple tips and tricks for running a great session at the CLS. We have such a short period of face time together, that we want to make absolute best use of it. Following these tips and tricks will help make the most of this time and provide some content after the session has finished that we can share.
Before
It is highly recommended that you share your session idea on this wiki first. This will give others an idea of what you want to discuss and you may find other attendees who want to help you run the session.
When you get to the event be ready to add the session to the whiteboard with the schedule. There is likely to be a bit of a race to get sessions on the whiteboard, so be ready to get there! :-)
During
While running the session be sure to:
Assign a note-taker. We want to be able to share the notes with other people after the CLS is over.
Allow discussion to range pretty freely (you can never anticipate what you'll all learn, but make sure to bring discussion back to the key questions you raised or key points you want to make about 10 minutes before the end.
Explicitly encourage silent people to speak up, if you notice about half-way through that some people haven't said anything. If you notice that a few people are dominating discussion (for any reason; it might not be because they're overbearing), consider going around the room and offering each person a chance to speak in order.
Notice and manage hot topics consciously. A meeting has conscious explicit topics and unconscious implicit topics. When whole group make big noise, emotional off topic argument or suddenly silent, these are the sign of unconscious implicit topics in the group. Allocate time for these topics for deepening dialog or clearly marginalize, otherwise these topics will show up again and again in bigger form and leave participants sense of incompleteness.
After
Be sure to publish the notes that you took during the session.
Collect names and (if online) URLs of resources and publish them. (This is more useful to do afterward than beforehand, because few people have time to read the resources beforehand.)